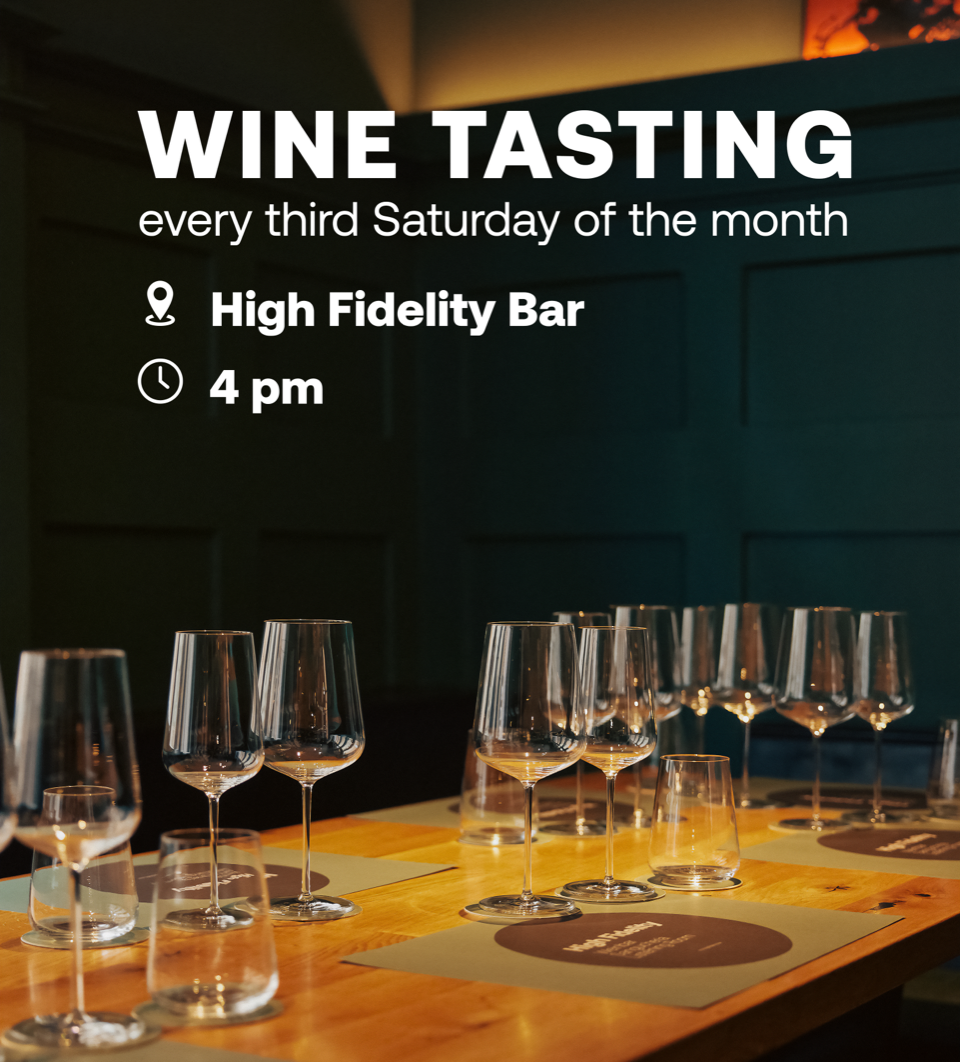 Tasting session every third Saturday.
After many requests from guests, friends and employees alike, we are starting a new tradition: Wine Tastings at High Fidelity.
Beginning on September 23rd, there will be a wine tasting at High Fidelity every third Saturday of the month. Exceptional wines, exciting topics and our usual, excellent staff will guarantee the perfect start into the weekend.
Cold cuts and water included.
Tasting will be held in German and English, if requested.
Start: 4 pm. Cost: 55,- €/person. Guests are limited so be quick to reserve your spot.
Photograph: Peter Bender
---
Saturday, 21st October, 4 pm
Gunderloch Winery, Riesling varieties with Kilian Kreis
Riesling from Roter Hang, Rhinehessen. An exceptional terroir.
Roter Hang is an historic terroir for Riesling, situated South of Mainz in the Rhinehessen region, on a steep hillside right next to the Rhine river. This year, Johannes Hasselbach is celebrating his 10th vintage at
Weingut Gunderloch
and his wines continue to reflect their heritage and the winemaking tradition at Roter Hang. Check out our newsletter article on his anniversary:
Newsletter Weinhandlung Kreis
55,- €/ person.
---
Saturday, 25th November, 4 pm
Wines from the Rhône Valley with Mark Stichler
A skipper's journey drinking wine on the Rhône from North to South.
Mark Stichler takes us on a boat ride down the Rhône to the Mediterranean Sea. Try the fascinating varieties of the Rhône Valley and taste the extraordinary quality this region can bring forth.
55,- €/ person.
---
Saturday, 23rd December, 4 pm
Fascinating Jura mountains with Bernd Kreis
Jura Wines – from exotic outsider to trend. With accompanying cheeses.
Wines of the Jura region are unique in their style, which is deeply rooted in tradition.
For a while almost forgotten, Poulsard, Savagnin, or Vin Jaune have now become increasingly popular. Served with the right dishes, they make for an exquisite tasting experience.
75,- €/ person.
Christmas Special for participants: 10% off any gift card of 100,- € or more.
---
Past Tastings
---
23.9. Wines from the Atlantic Coast with Bernd Kreis
Wines from Loire down to Andaluz, formed by ocean breezes and Atlantic climate.
Along the Atlantic Coast, we find various grapes, types and styles of wine. They all speek to their terroir close to the coast. Rough winds and salty spree, combined with a temperate climate, give them a uniquely mineral and fresh flavour. Bernd Kreis provides us with examples from the Loire all the way down to Andaluz.